Reinventing the 'Well-being' Wheel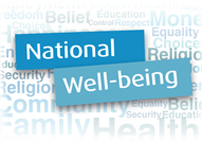 The Measuring National Well-being (MNW) programme began in 2010. Its aim is to provide a fuller picture of how society is doing by supplementing existing economic, social and environmental measures. The well-being wheel (pictured below in its most recent form) has been a familiar symbol and iconic feature of the programme and is published alongside each MNW update to illustrate how the UK is doing across the 41 headline indicators.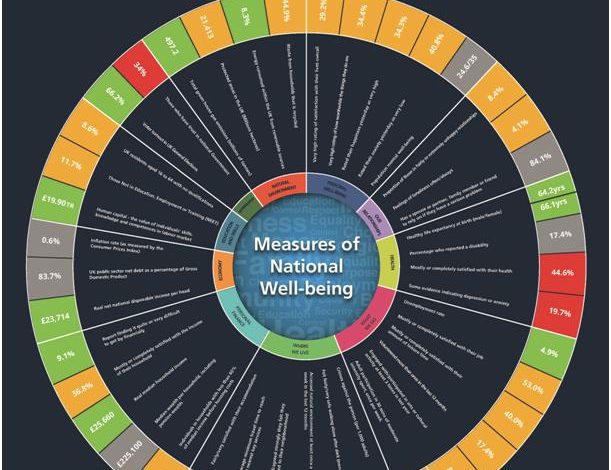 However, over the years, the wheel has become less suited to the challenges of presenting UK progress and is not in alignment with government wide accessibility standards. In an attempt to enable a better user experience, we have created a dashboard of well-being (indicative version pictured below) to replace the well-being wheel. Among other benefits, it will allow users to immediately see trend data for each indicator, allowing a more complete overview of all measures. It will also be compatible with smart devices, something which the wheel is not.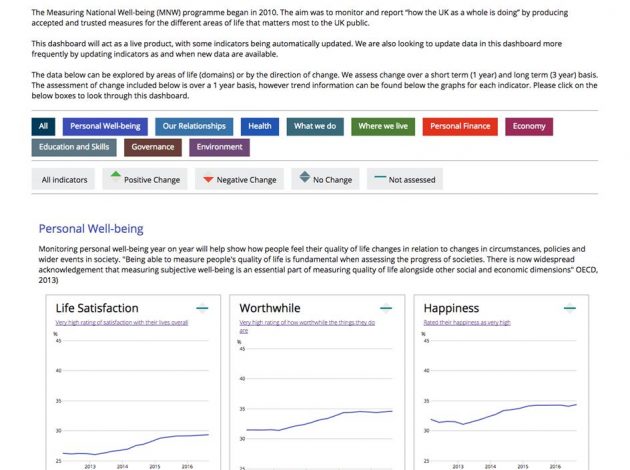 The new well-being dashboard will also provide a first step towards a 'live' well-being product. Where possible, indicators on the dashboard will update automatically as new data are published by the original data owner. We will be working hard in the background to ensure more and more data are updated automatically in this way. This is a major step away from the static essence of the wheel, which often was out of date shortly after being published.
The new dashboard will be published alongside our next update on 6 April 2017. Although it's in its infancy, we are hoping to develop it over time to suit user needs. As well as the national headline estimates, we also provide more detailed analysis by age, sex and region. Over the next few months we will be working on better ways to disseminate these different views of well-being.
Looking to the future, we aim to combine the best of what the wheel offered with newer technology and more accessible data visualisation methods. The dashboard will be in keeping with the programme's aim of presenting a more holistic view of how the UK is doing to supplement GDP.
We would welcome any comments or thoughts at this time to ensure that new products meet your needs. If you have any feedback, please contact us on qualityoflife@ons.gov.uk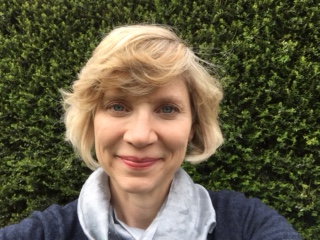 Dawn Snape is Assistant Director of National Well-being at ONS