ONS looking internationally during COVID-19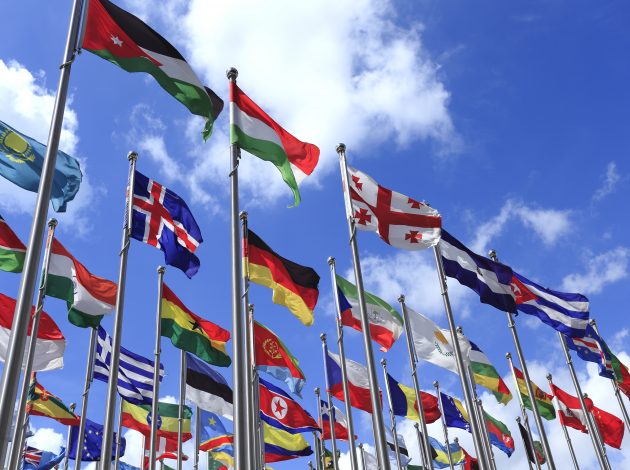 The COVID-19 pandemic is a truly global crisis. Emily Poskett and Nikki Shearman explain how the ONS international teams have been working with national statistical offices around the world in order to share lessons in how we are using the power of data to respond to the virus.
The ONS isn't just supporting the UK's response to the pandemic. It has a team of people working with national statistical offices around the world who are helping to strengthen data globally to help other governments make the best decisions for their citizens.
The ONS has always looked internationally, but there has never, in living memory, been a time when it has been more vital.
Why should national statistical offices worry about COVID-19?
In order that governments all around the world can make effective, evidence-based decisions to tackle this crisis and, later the recovery in their own countries  – statistical data needs to be collected, analysed and disseminated effectively. They are relying on their national statistical systems to quickly adapt to provide the information their country needs to feed rapid, evidence-based decision making.
What challenges are statistical offices, including the ONS facing?
National statistical offices (NSOs) are responding to the crisis in the face of twin challenges – increased attention and demand, at a time of reduced capacity to collect data and analyse statistics. This can be seen in this useful diagram by Paris 21, an organisation established by the United Nations to promote the better use and production of statistics throughout the developing world.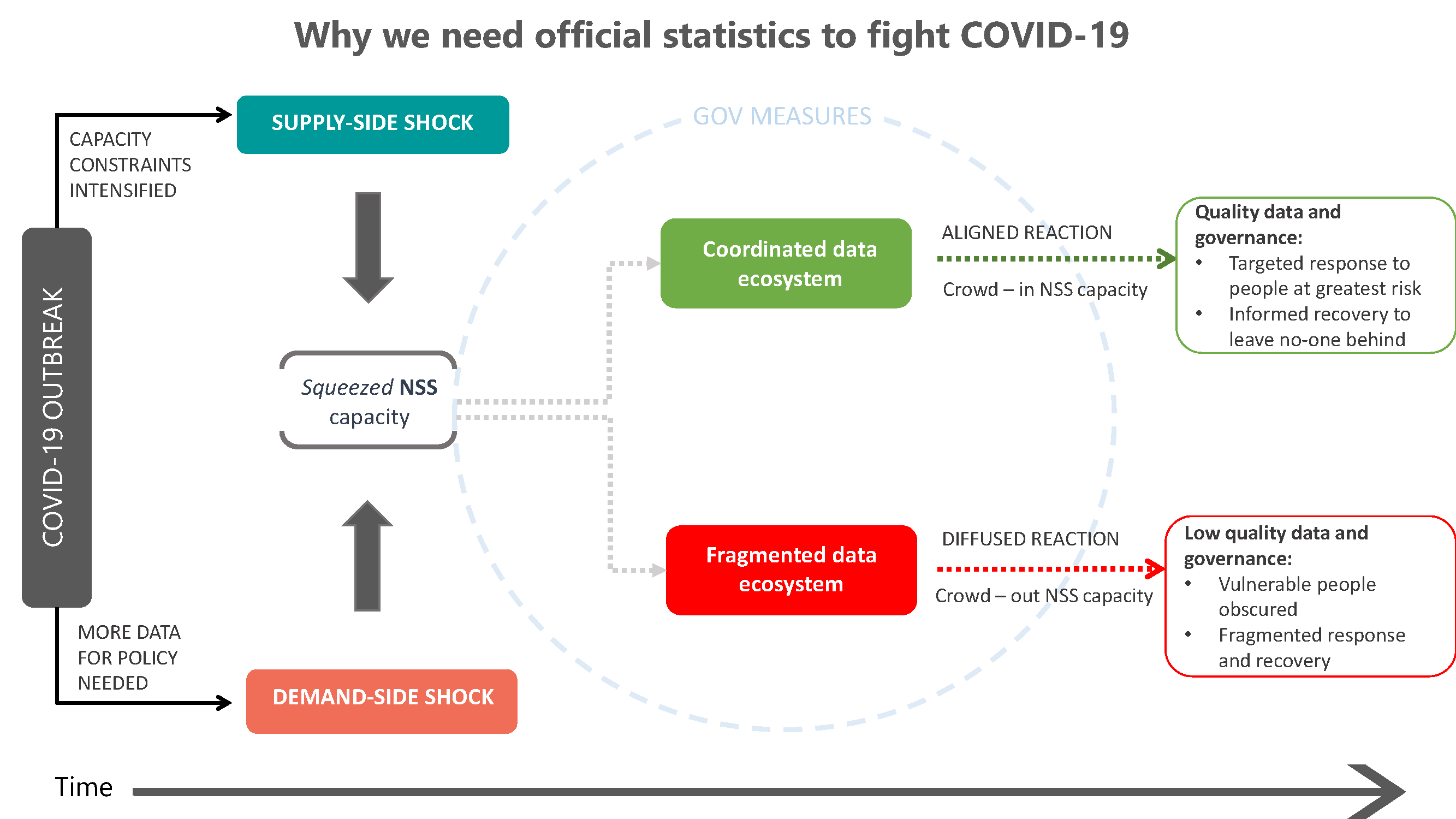 National statistical offices have a unique role in helping governments sift through the noise and identify which data are most appropriate to use for decision making, and the pressure on them is immense.
The scale of the challenges in supplying data varies by country, and many countries may be struggling with the basics. For example, home working, as required under social distancing, can be extremely challenging if ICT equipment, internet connectivity and even power is not reliably available at home – which can be common in some lower and middle-income countries.
Core statistical systems such as civil registration systems, where deaths and their causes are registered, are incomplete or entirely missing in many developing countries. And some of the technical solutions which the ONS has turned to, such as collecting data by phone and internet instead of face to face, are not feasible solutions for countries where data are collected from establishments that are informal in nature, and difficult to contact remotely.
Then there is the challenge of funding. All national statistical systems require funding from their governments. In developing countries, this funding may be supplemented by international partners, but as the crisis grows, there is additional pressure on this resource.
Working together
Although contexts are different, many challenges we currently face are common, so sharing understanding between countries has never been more important.
The ONS's International Development Team has partnerships with some key African national statistical offices including in Ghana, Kenya and Rwanda in addition to the UNECA Africa Centre for Statistics. This makes us well placed to support the response to the crisis across the continent.
Meanwhile, the ONS's International Relations Team has been working closely with partners in Australia, New Zealand, Canada and across Europe to share advice. They have also been working closely with large multilateral organisations such the UN, the OECD, the UNECE and the IMF to ensure we support them. Through this we have fed into new UN guidance that will have a global impact.
We are also participating in international discussions and webinars to directly sharing lessons, for example, Deputy National Statistician Frankie Kay will participate in a UN Webinar on 29 April looking at the challenges of data and COVID-19.
We are working closely with colleagues across the ONS and the wider UK Government Statistical Service to link them to their international peers so they can discuss particular issues in depth.
How can the ONS help others?
Many countries have been interested in how the ONS has approached the challenges in helping to tackle the pandemic, including our new pieces of analysis on how the virus is effecting our economy and society. They have also been interested in how we have reshaped data collection instruments and communicated this to stakeholders and the wider public.
There is interest in how the Data Science Campus is harnessing new forms of data to respond to the crisis, and we are aiming to make tools and methods openly available so that others can replicate our approaches. Through our international development programme, there is resource available to help developing countries with this if needed.
By working together we can help ensure national statistical offices across the world remain open for business at this time when data is most needed.