New survey results provide first snapshot of the current number of COVID-19 infections in England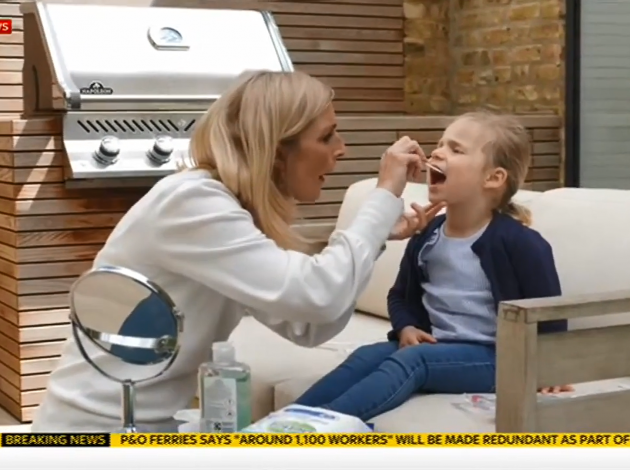 Screenshot from Sky News showing the family of journalist Sarah Hewson being swabbed.
Understanding how COVID-19 is spreading across the population is crucial to controlling the pandemic and its effects. A large study jointly led by the ONS, in partnership with the Universities of Oxford and Manchester, Public Health England and Wellcome Trust, is tracking infections within a representative sample of people of all ages across England. As the initial estimates are released, Pete Benton, Director of Population and Public Policy Operations, explains what they mean, why there are important and how to compare this survey to other COVID-19 estimates.
What is this COVID-19 Infection survey?
This major study involves asking people up and down the country to provide nose and throat swabs on a regular basis. These are analysed to see if they have contracted COVID-19. In addition, some adults are also asked to provide blood samples that will help determine what proportion of the population has developed antibodies to COVID-19.
This survey will help track the current extent of infection and transmission of COVID-19 within communities and helps address one of the most important questions the country needs to know – how many people in the UK have the coronavirus (COVID-19) infection at a given point in time.
Initial pilot results released today have enabled us to estimate the number of people across England who have COVID-19.
We estimate that around 148,000 people living in households across England would have tested positive for coronavirus at any given time between 27th April and 10th May. Because this is based on a survey, there will always be some uncertainty in our estimate, but we are 95% confident that the true value is somewhere between 94,000 and 222,000 people. As the size of the survey grows, that range will become narrower and our confidence in the estimate will continue to increase.
It's important to note that this survey excludes infections in people who are currently in hospital, a care home or other institutional settings. If we were to include those people, our estimate of the total number of people in England who are infected with coronavirus would be a little higher. We're currently working with the Department for Health and Social Care and Public Health England on methods to estimate the rate of infection in those population groups.
This survey will also help us to understand the symptoms experienced by those who test positive and we will include analysis of that in a future release. While the pilot is only in England, we plan for the full study to be across the whole UK.
Will we get more results?
Yes – as more households become involved and the sample size increases, we'll be able to provide more insight into the extent of virus infections including, for example, regional breakdowns.
Also, as we take swabs and blood samples from individuals on a regular basis, in the future information will be available on the rate of new infections, and on those that have developed antibodies to the disease and therefore may be immune to future infection.
The information on the spread of the infection will form an important component for estimating the rate of transmission, often referred to as "R", which is central to Government decisions about how the current mobility restrictions could be eased. There are different approaches for estimating R and the agreement of the most appropriate estimate for any period is the responsibility of the Scientific Advisory Group for Emergencies (SAGE). They will use information from our study in their deliberations.
How do the ONS figures compare to COVID-19 testing figures published each day?
There are a range of data sources available that provide insight into COVID-19 and so it's important to understand how this study relates to other figures out there. The Department of Health and Social Care (DHSC) release daily figures for the number of positive tests for COVID-19 in the UK. However, these do not measure the same thing as this survey and so are not comparable:
The DHSC figures relate to the results of tests carried out to date, which are mostly of people with symptoms related to COVID-19 or other people in their households. What's different about our survey is that the people being tested are from a random section of households. That means that we'll be able to produce statistics about the total number of people infected, whether or not they have symptoms.
Our survey is a point-in-time estimate of the number of people who are infected with COVID-19, whereas the DHSC figures are a cumulative count of all confirmed cases of COVID-19 since testing began, which will include people who have since recovered.
At present, our survey covers infections in England, whereas the DHSC figures released on the GOV.UK website count cases across the whole UK.
A fast turnaround
It's been a whirlwind process, taking just three weeks to set up the survey and publish the first results; a herculean effort from all those involved. I'd like to pay special thanks to the tireless efforts of the team of field staff collecting swabs from households. We also need to thank Professor Sarah Walker and her team at the University of Oxford, and analysts from Public Health England and the University of Manchester, for their crucial role and expertise at all stages of the process.
It also needs saying that we put this huge operational effort, a project that would usually take around six months to organise, into the field in a matter of days. We are aware that some people have had appointments missed or had trouble reaching us at times. For that we sincerely apologise. We're tackling the issues and it's now ramping up well, and we will get back to everyone in due course. Your part in this vital survey is hugely valuable to combatting the pandemic – thank you for your patience and willingness to take part. We are learning as we go along, expanding our collection force and visiting more and more homes daily.
So far we've only scratched the surface in terms of what understanding about the spread of COVID-19 this survey can offer. Expect a lot more insight to come over the coming weeks.