Statistics for the Public Good – Our New Five-Year Strategy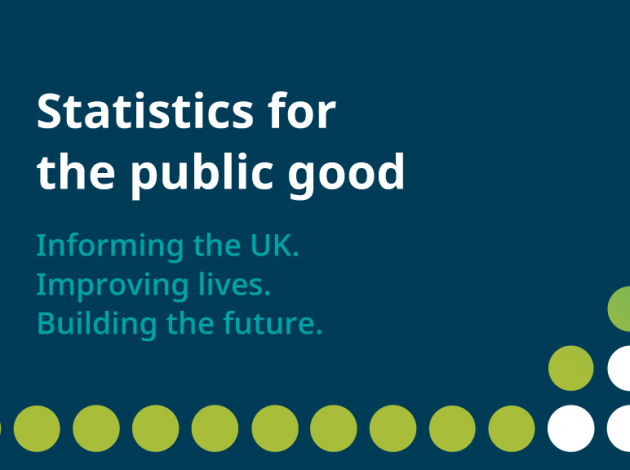 Statistics for the Public Good – The UK Statistics Authority's new 5-year strategy was launched Thursday 16 July 2020 following a period of drastic change across the statistical system in response to the COVID-19 pandemic.  Sir David Norgrove, chair of the authority, recaps the work that has gone on so far before outlining the key principles of the strategy and how they will ensure public statistics can continue to improve into the future. 
COVID-19 has illustrated the direct connection between data, policy and society as never before.  And as our lives have changed dramatically during this unprecedented period, so has the way we produce data about our nation. In my nearly 50 years of observing and working within the UK's statistical system, I've never seen so much change in such a short period.
Since the pandemic started, the statistical system has adopted radically different ways of working. This has ensured we can provide the vital data needed to track the progress of the pandemic and asses its impact upon our society and economy. Faster, more relevant data from wider sources have supported critical decisions day after day.
A major national COVID-19 infection study was designed and launched in a matter of days, in partnership with the Department for Health and Social Care, the University of Oxford and others, which continues to inform top level decisions on the easing of lockdown restrictions.
A mixture of new weekly online surveys, commercial and public sector data and data science sources were brought together to provide real-time information about people and businesses as the pandemic progressed. And with usual methods of face to face surveying and price monitoring no longer possible, alternative methods to measure a rapidly changing economy were designed and implemented at pace. Rapid reviews of those novel sources and outputs were made by the Office for Statistics Regulation.
Changes like these had been discussed for years but happened almost overnight when this crisis began.
But what will be the legacy of this period of dramatic change? While the speed of change is something that was forced upon us by circumstance, it has required us to take a leap and try new things: new ways of working that can be retained and built upon to shape the future of our statistical system.
Just before COVID-19 took hold in our country, we were working on the next strategy for statistics in the UK, looking at new ways of working to improve the flexibility and resilience of our system. We've already taken the first steps and proved that the scale of change we were striving for is not only possible but of massive benefit to our country.
Improving lives and guiding the path to economic recovery is going to take more and better data, intelligently used, and presented well.
I want us to be radical when it comes to innovating and collaborating with others to ensure we can fully unlock the value of the UK's data.  To make that happen we will need to make greater use of data from all sources, subjected to appropriate ethical scrutiny and rigidly protected.
We should also be ambitious when it comes to what we can achieve with the skills we have.  We've seen the benefit of sharing early analysis and I want to make sure we continue to react and deliver information when it is needed.
And we will continue to build on the success of the past 5 years. In that time, we've withdrawn ministerial pre-release access to statistics to ensure we reinforce our position of operating without political control and developed stringent processes to examine the ethics behind our numbers to ensure we are working in the interests of the public good.  We will be even more open and vigorous in the next five years, presenting our work for all to see and continuing to challenge the misuse of data wherever it occurs in public life, without fear or favour. This is fundamental to building trust.
Our own statistics paint a picture of inequalities across gender, race and age across our country.  I recognise that we all have a role to play when it comes to addressing these and creating change.  I want to make sure our sector is truly representative of the UK public and this will be key to our planning as we look to the future.
Lots of work has gone in to getting us where we are today.  I will be spending the next years pushing to ensure we continue to drive to produce better evidence across the country.
The past few months have shown what we're capable of doing when there's special pressure.  Now as we move we hope into more normal times we have to keep up the pace to bring together new sources of data to gain better understanding and improve lives.
The following article originally appeared on the Times website on Thursday 16 July 2020.