Good data from any source can help us report on the global goals to the UN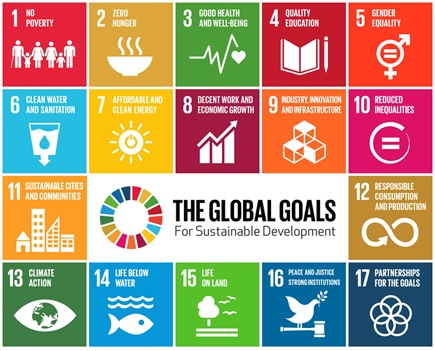 Here at the ONS we lead on reporting UK data for the Sustainable Development Goals (SDGs). Jo Evans leads our SDG team and explains why they have developed a method which will enable them to use more data. Jo also outlines their UN recognised work on "Open SDG."
Last week we published a new way of assessing data from non-official sources to report on the SDGs.
The SDGs are important because they're a useful way to track the world's progress towards agreed goals for people, planet and prosperity. The Goals commit to "leave no one behind" which aligns to the "inclusive" principle of our "Statistics for the Public Good" strategy.
So, we've been collaborating across government and beyond to improve the data we can use to monitor progress. We want to ensure no one and nowhere is forgotten in our statistics.
What makes data producers "official"?
To provide an accurate picture of the UK, we need to use good quality and trustworthy data. Most of the data we use to report the SDGs are from government departments. They're classed as "official statistics producers" because they are expected to align with the Code of Practice for Statistics. We also use data from recognised UN agencies, which follow the Fundamental Principles of Official Statistics.
The SDG framework has goals with targets to achieve. To show if the world is progressing towards those targets there are 247 indicators. Some of these indicators need data which government statisticians are not collecting, yet. So, to report exactly what the UN requires we need to find alternatives.
For example, we use LINK data about number of cash machines in our reporting of SDG indicator 8.10.1. Electronic transactions for shopping and paying bills are increasing. However, for some access to cash remains important. This is especially true in other parts of the world. The SDGs track cash machine availability to gauge progress and make sure no one is left behind.
There are benefits to using non-official sources from charities, academia and business. These collaborations increase the amount of inclusive data we use. They can spark unexpected conversations and pave the way to innovation.
This has led us to creating a process we will follow to assess whether data sources from non-official producers can be used to report on the SDGs.
How does the process work and who is it for?
It acts as a guide to how we approach using new non-official sources. It helps us assess whether a statistical output is suitable for use in reporting the SDGs. It uses general principles from the Code of Practice for Statistics, like trustworthiness and quality.
Its intended use is to help organisations understand what we look for when reporting the SDGs. It shows what aspects official statistics value when they're produced.
Although our process is SDG-specific you can adapt it to use as a tool in your own area of work. You might want to use it to assess sources for your own reporting and analysis.
There is scope to extend it to non-official sources which are not statistical. This would include qualitative information like articles and reviews. These can be useful to add context to the SDGs. They can help show the data in real-world stories and how it affects government policy.
This process is experimental, and we plan to publish updated versions based on applied use and feedback. You can get in touch with us with your comments or questions at any time.
UN recognition for our innovative global collaboration
As well as collaborating with non-official data providers in the UK we are working with the global SDG community.
We publish the UK's SDG data on sdgdata.gov.uk. This website is based on an underlying template called Open SDG.
ONS is a lead contributor to the online community of the same name. We contribute instructional videos, guidelines and case studies which help others use Open SDG to report their own data.
The template is free to use. It's open source – the programming code is not restricted or private. Users of the template can choose to use whichever functions they like. It can display charts, tables and maps. Users can translate their site into a growing number of languages, too.
More countries, regions and cities are using it all the time. Last year, we helped Bristol set up their own data site using Open SDG. This year we will be helping Liverpool achieve the same and are talking to other UK local authorities about how we can support them.
The UN Department of Economic and Social Affairs (UN-DESA) invites people to submit their examples of "SDG Good Practices." It recognises Open SDG as increasing the transparency of SDG data in developing countries. In turn, this is recognition of the work our teams have done to further transparent, inclusive and ambitious data reporting.
Our work to report UK SDG data and to build global partnerships is not achieved on our own. We rely on a network of data providers and statistical organisations. We need more, though, to give the best picture of UK and world progress towards the Goals. You can help with feedback, suggestions or possible data sources. Get in touch with us and let's see what we can achieve next.