International migration hits new high in 2022 but there are signs of change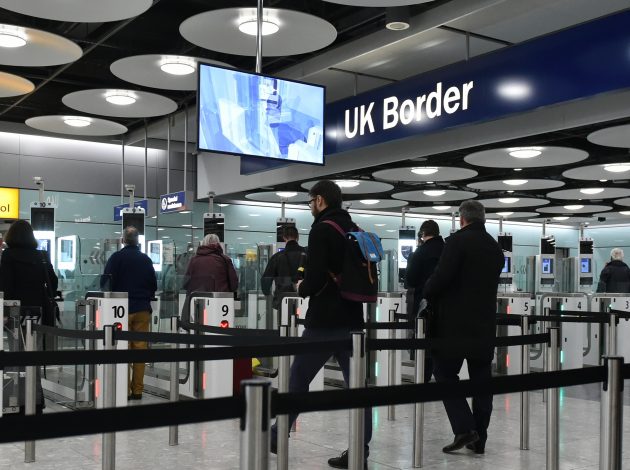 International immigration to the UK hit record levels in 2022, driven by unprecedented world events and the rise in international students following the lifting of pandemic restrictions. Aligned to a period where a new immigration system had recently been introduced, Jay Lindop explains what we have been doing at the ONS to provide users with the best possible migration figures and how these feed into our future model for population statistics.
Long-term immigration (those coming into the UK for more than 12 months) rose to 1.2 million for the year ending December 2022, an increase of 221,000 from the previous year. With emigration at 557,000, this means that migration continued to add to the population with a net migration estimate of 606,000.
Non-EU immigration is driving these relatively high levels of migration. In contrast, more people from the EU are leaving the UK than arriving.
It was a unique year for migration due to world events with those arriving on humanitarian routes from Ukraine and Hong Kong among the factors behind the increase.
Our estimates also show that levels of immigration from non-EU international students, and their dependents, remain high. This can be attributed to increased demand post-pandemic, as well as delayed travel, and may also be influenced by the new Graduate Visa route. This route allows a student to apply to work in the UK for a period of time after completing their studies.
Previous research by the ONS has shown that most students leave at the end of their study visa. However, some apply for subsequent visas or citizenship. Today we published a paper which describes how we could better understand student migration patterns and their contribution to net migration.
Despite the rise in immigration in 2022, our latest long-term international migration estimates suggest a slowing in growth over the most recent quarters. This may reflect the temporary nature of these world events, as well as beginning to see higher numbers of international students emigrate. We will continue to monitor these patterns in the coming months.
Including new data
We have long acknowledged that the International Passenger Survey (IPS), which underpinned historical, pre-pandemic international migration estimates, had been stretched beyond its original purpose. Since 2020 we have accelerated our plans to transform migration statistics and they are now published using administrative based data, rather than survey data based on intentions.
We are continually improving and evolving methods to allow us to produce the best possible migration estimates. This time we have included asylum seekers in our estimates for the first time since the pandemic. This includes some irregular migrants who arrived via small boat crossings who subsequently applied for asylum. As a result of these changes, we have revised our previously published net migration upwards from 504,000 to 606,000 for the year to June 2022.
To help users assess how estimates published today compare with the period before, during and after the pandemic, we have provided provisional estimates back to December 2018.
Like our previous estimates, today's will be subject to change as we continue to develop our methods and make use of new data sources. Census 2021 has painted a picture of what net migration was likely to have been over the decade. As we always do after a census, we are revising our historic migration statistics to rebase population estimates and will publish these in September. We have recently published a statement informing users of our population statistics timetable for the rest of this year.
Future plans
Ensuring users can have confidence in our estimates and that we are transparent about the quality of the data is a key priority for us. Today we have published a Quality and Methods Information (QMI) article which describes the data and our understanding of the quality of the inputs. We have also updated our methods paper (including how we have added asylum seekers) and shown how our research in using Home Office data for EU nationals is progressing. From November, we will be providing users with uncertainty measures for our estimates, and we are developing innovative methods for this which we will publish in a methodological research paper on 1 June 2023.
The statistics we have published today are part of a programme to modernise population and migration statistics. We want to make sure our data reflect the movement of people, and that the statistics we produce are meeting your needs. We have published a paper which considers alternative ways of estimating the population that may better reflect the services required. For example, this includes different ways of recognising seasonal migration as well as periods of time spent in the UK that last for less than 12 months. We also demonstrate different ways of quantifying students in our net migration estimates to get your feedback on which method to prioritise.
Next month we will launch a public consultation to gather your views on what you need for population, migration and social statistics. This will feed into the National Statistician's recommendation on the future production of high-quality population and migration statistics. In the meantime, send your feedback to pop.info@ons.gov.uk.