On Data: by Heather Savory
The UK's first data analytics apprentices started working with us this week. Heather Savory takes stock of progress as ONS gears up its data handling capability to help Britain make better decisions.  
"On Monday, we signed a Memorandum of Understanding with The Alan Turing Institute in London, outlining our shared commitment to creating global impact in data science through research, training and leadership. Researchers from the ONS and the Institute will meet in 2017 to explore collaborative projects. 
The same day, National Statistician John Pullinger delivered a lecture at the Institute (more from him to come about this) and yesterday we welcomed the UK's first data analytics apprentices who started work at our Newport Data Science Campus.  Quite a week!
Our apprentices (pictured above with Welsh Minister for Skills Julie James AM) and those working at the Data Science Campus are part of the process of changing the way we work at ONS to provide even richer information on the economy and society to help inform the nation's decision-making. The eight apprentices are joining a unique career pathway that will see them use cutting edge tools and technologies to provide statistics and insights to help shape policy across the UK 
On topics from employment to well-being, GDP to migration, we need to ensure that our statistics are calculated in the best way, and with the best data. For decades, this evidence base has been underpinned by large-scale, costly and complex social and economic surveys of people and businesses, including the traditional ten-yearly Census which now has over 200 years of history.
"ONS can act as a hub and incubator for analysis for public good"
However, with the data revolution comes an opportunity to use information that is collected as part of our everyday lives to create this vital evidence base. Bringing together Analysts, Data Scientists and Technologists from across the UK and the wider international community, ONS can act as a hub and incubator for analysis for public good, working collaboratively with academics and others to build impactful, co-creative partnerships across the data landscape.
To do this effectively, we need to: have the right technologies in place; have access to the right information; have the right methodologies to analyse that information; and have the right methods of dissemination to share our insights. We have made progress in all of these areas over the last year
As we look forward, the growing data capability in other organisations presents us with new opportunities to collaborate. We need to work more effectively across government as well as with academia and business. Of particular importance here is joining up and supporting the work being done in GDS on data for digital service transformation, and DCMS on policies supporting the wider digital economy. Mobilising the power of data is essential to us all.
We will collaborate and innovate more readily. Building a culture of innovation and challenge is at the heart of developing the Data Science Campus, which we have set up to build a new generation of tools and technologies to exploit the growth and availability of innovative data sources and to provide rich informed measurement and analyses on the economy, the global environment and wider society
The data revolution holds a great opportunity for evidence and analysis. We are starting to make much better use of data, and looking forward to an exciting few years ahead."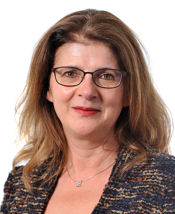 Heather Savory is Deputy National Statistician for Data Capability at ONS
Feedback to the Editor