Introducing the ONS Data Journalism Intern Scheme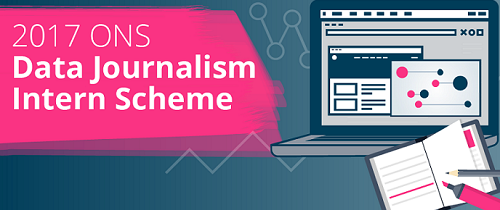 We are living through the data age: from torrents of data every time we unlock our smartphones, to essential statistics underpinning vital personal and societal decisions and oceans of big data giving us insight into how to shape our roads and our cities.
It's easy to feel overwhelmed by the meaning of it all if you're not an expert in the field.
For those whose job it is to help citizens make sense of it, the challenge is acute. In recent years a new breed of journalist has emerge combining digital, editorial and analytical skills to help find the value in the data.
At the ONS we're also taking steps to make it easier for citizens, policy makers and the media to use, transform, analyse and extract meaning from the statistics we collate on behalf of the whole of the UK.
We've invested in new forms of dissemination, bringing together journalists, statisticians, designers and data visualisation experts to transform statistics into accessible stories.
We relaunched the ONS website last year to make it easier to find our outputs and get to the data faster. Last month we opened the ONS Data Science Campus to improve our use of big data.
We're building new tools that will make it easier than ever to find the specific data needed locked inside our spreadsheets.
But we recognise we can't do this alone. Every day our statistics are used across the media as the basis for many stories, and increasingly it is data journalists driving this reporting.
We want to support the next generation of data journalists, encouraging them to use public data for public good and to help people make better decisions because of better statistics.
So today I'm really excited to announce we're launching an internship scheme for post-graduate students in the UK that will provide a paid month's experience in the newsrooms at the forefront of transforming their journalism through data.
I'm delighted to say that BBC News, Trinity Mirror, The Telegraph, Press Association and ONS Digital will be offering an internship this summer to successful candidates.
You'll be working with teams who have produced an array of high-quality data journalism, including:
BBC News
Care in the UK: The costs you face
Donald Trump visit: What petitions say about  your area 
Trinity Mirror
Who lives in your area? Take our interactive test to reveal the type of people in your neighborhood 
The Telegraph
The 114,000 votes that cost Hillary Clinton the US election
Press Association
Hate crime surges to record levels after Brexit vote
ONS Digital
Prospective home owners struggling to get onto property ladder 
We hope the month will be an invaluable opportunity to learn from those who are pioneers in this field and get hands on experience in newsrooms with data journalists who are helping unlock data for millions of people each day.
You can read more about the details of the scheme, including the eligibility, on the ONS website and apply via Civil Service Jobs.
Good luck with your application. We're really excited to see the potential being unlocked.
Darren Waters is Managing Editor, Publishing at ONS