Everybody's heard about the GERD – measuring measures R&D spending at ONS
Investing in research and development (R&D) is one of the key ways that businesses can improve their competitiveness and increase their productivity, an important driver of growth. Here, Office for National Statistics's (ONS) Deputy National Statistician for Economic Statistics Jonathan Athow looks at the importance of R&D and how the ONS goes about capturing it in its figures, which it publishes in its Gross domestic expenditure on research and development (GERD) release.
The Government's industrial strategy sets a target for the UK to spend 2.4 per cent of GDP on R&D. It is our job here at the ONS to collect and publish figures on spending on R&D across the whole of the UK economy. But how is research and development defined and what does it measure?
We follow an internationally agreed standard definition of R&D set down in something called the Frascati Manual published by the OECD.
The key definition is:
"Research and experimental development (R&D) comprises creative and systematic work undertaken in order to increase the stock of knowledge… and to devise new applications of available knowledge."
To qualify as R&D under this definition, research needs to meet five criteria: it must be (i) novel, (ii) creative, (iii) uncertain, (iv) systematic, and (v) transferable and/or reproducible. It is important that all five criteria are met.
Expenditure on R&D is captured by asking public and private sector bodies for their spending using this standard definition. The statistics produced by the ONS are collected through two main methods:
For government, data on R&D spending are collected directly from departments; and
For businesses, we run an annual survey, comprising around 5,400 businesses. From this we can make an estimate of overall spending on R&D performed by UK businesses, and the characteristics of businesses undertaking those activities. We regularly review the coverage of firms to ensure we are capturing R&D intensive firms and sectors.
This is then supported by data from the higher education sector and a survey of the non-profit sector such as charities. Adding all these sources together gives us total spending on R&D in the UK, often known by the acronym GERD or 'gross domestic expenditure on research and development'.
How much does the UK spend on R&D?
The chart below shows total R&D spending in the UK in cash terms and as a share of GDP. R&D spending rose from £22.7 billion in 2006 to £34.8 billion in 2017, equating to just under 1.7 per cent of GDP.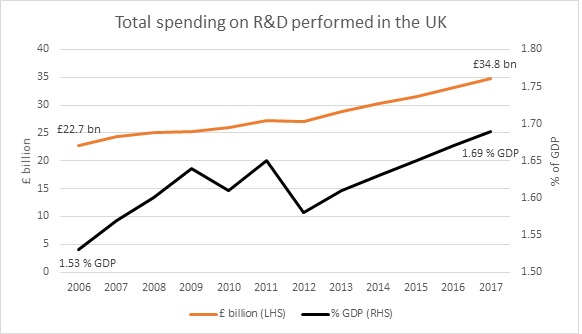 We can also look at which firms are spending on R&D. As the chart below shows, the spending on R&D by small and medium-sized enterprises (SMEs) has broadly trebled in cash terms (or current prices) over the ten years to 2017. While the increase is large, overall SME expenditure on R&D is still only around 3 per cent of the total.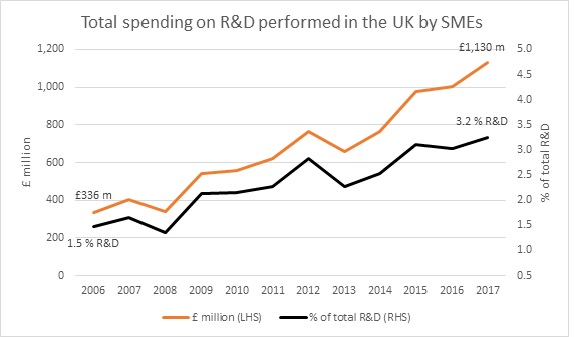 Is there more than R&D?
The ONS measures R&D based on internationally agreed guidelines, which ensures the statistics are internationally comparable. That said, businesses also invest in other innovative and intangible things, like designing new products, developing software, or improving production processes. These investments often don't meet all of the criteria in the Frascati Manual to qualify as R&D, but are nonetheless important for productivity and explaining economic activity.
The ONS has been developing wider measures of intangible investment in the market sector, including some types of spending that are not treated as investment in the national accounts. Research and development is an important component of this wider range of spending, accounting for over 15% of the total.

Defining and measuring R&D isn't easy, but our work is giving more and better insights than ever before on this important driver of productivity and economic growth.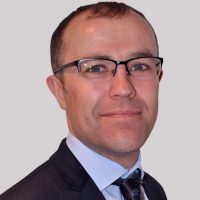 Jonathan Athow is Deputy National Statistician for Economic Statistics