Making an impact with Apprenticeships at ONS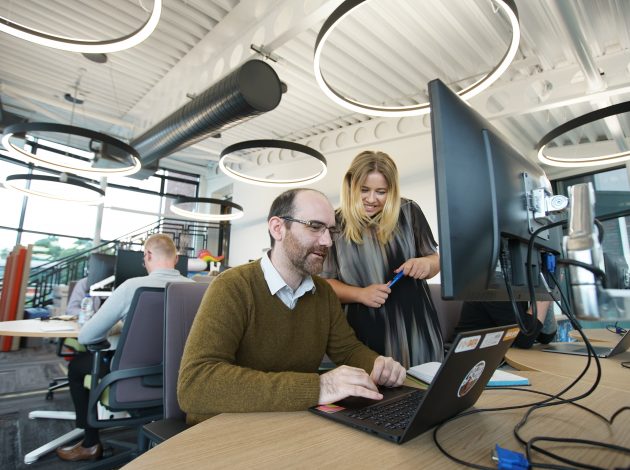 Two recent apprentices who went on to secure jobs at the ONS.
It's National Apprenticeship Week and this year more than one hundred ONS apprentices are learning valuable skills in a whole range of disciplines. Here Alex Lardner shows why it's a brilliant way to start a career in a fascinating organisation.    
It's National Apprenticeship Week and the theme for 2020 asks us to 'look beyond'.
This year is all about seeing past the outdated stereotypes surrounding apprenticeships and celebrating the diversity of opportunity and talent they are bringing to organisations like the Office for National Statistics.
In 2019 we had more than 100 new apprenticeships starting at the ONS, including new joiners and members of staff advancing their skills alike, in departments including Communications, Legislative Affairs, Data Science, Economics and Business Administration.
We have looked beyond the traditional hiring routes and developed apprenticeships that offer fantastic long-term career options, with a blend of studying and learning on the job. Different levels of apprenticeships allow us to recruit at different entry points and give great opportunities for staff, whatever their level of experience, with a clear path for progression.
Importantly, last year also saw the start of our first degree-level apprenticeships in Economics and Data Science. We are proud to have been at the forefront in the development of the standards for these types of apprenticeships and both courses started in September 2019 across England and Wales.
We're excited to see these two apprenticeships being delivered to committed and engaged apprentices. Some have been recruited from outside the ONS, while others are upskilling or continuing their apprenticeship journey from the Data Analyst apprenticeship.
In collaboration with Cardiff Metropolitan University in Wales, York St John in England and the University of Kent we've created training schemes that develop the knowledge and skills that employers today truly need.
Through these partnerships we are now able to deliver top notch, cutting edge degrees that help the UK leverage the power of data and drive decision-making. Our courses also provide apprentices with insights on the latest academic thinking which they can bring back to the workplace and use in the projects they are undertaking for the ONS.
An example of how this programme breaks down the stereotypes around apprenticeships has come from one of this year's Data Science Degree Apprentices, Jonathan Rees. He explained: "I felt that this could be a chance for me to re-train, without the financial burden that re-training usually carries. My first ten month have been extremely rewarding and changed my expectations of what an apprentice is.
"I came into the job expecting to be working on small 'busy work' tasks, but I've hit the ground running and started picking up useful skills almost instantly. I've also been asked to contribute my own opinions to how a data science project evolves, and the Data Science Campus has treated me as a part of the team from day one."
Working with local schools and colleges, the ONS is also looking to inspire people to consider an apprenticeship to support their development. Apprenticeships can be an incredibly useful tool for people of all ages, with varying qualifications and different backgrounds who are looking to consolidate their experience, change career direction or simply start afresh.
Annabel was training to be a midwife when she decided to take part in a policy apprenticeship at the ONS.
She said: "After having a baby, I started training to become a midwife. However, shift work and lack of a salary for the three years of studying meant that I started looking elsewhere, and I found this apprenticeship during my break on shift!
"I came into my job with no real idea of what policy was, so it has been quite a learning curve, but my apprenticeship has really helped with getting the fundamental knowledge. It's a great opportunity if you don't have a degree to help your progression within the civil service."
Annabel now works in the ONS's Legislative Affairs team and her work includes looking at how the organisation is affected by data protection laws and what changes need to be made as the country prepares to leave the European Union.
Opportunities for apprenticeships at the ONS are open now, with applications for the latest intake for Professional Economist Level 6 closing on 11th Feb, places on the Data Scientist Level 6 course are available starting in Spring 2020 and applications for our Data Analyst Level 4 programme remain open year round in both England & Wales.
Whatever the profession, our apprenticeships offer a fantastic opportunity to either join the ONS, upskill or be re-trained, whatever your background or education level.  They are a great opportunity to learn, develop, and become a valued member of the ONS team.
Want to know more? As part of National Apprenticeship Week, Alison Adams (Head of Talent at the ONS Data Science Campus) has written about what our data science degree apprentices have been doing, along with their highlights of the apprenticeship so far.