Using credit card payments data for the public good
The intelligent use of data gathered by our leading financial institutions can result in faster, more detailed economic statistics.  Tom Smith describes how a joint event staged by ONS and Barclaycard illustrates the vast statistical potential of  anonymised  payments data.        
"My job at the Data Science Campus brings many fascinating days as we work with organisations across government and the UK to unlock the power of data. One recent event particularly stands out.
Our experts from across ONS joined forces with analysts from one of the world's biggest financial organisations to explore how commercial payments data could help tackle some of the UK's biggest economic questions.
Following a successful knowledge sharing day at the ONS Data Science Campus, Barclaycard, which sees nearly half of the nation's debit and credit card transactions, hosted a 'hackathon' at the state-of-the-art fintech innovation centre Rise. This brought together 50 economists, developers, data scientists and analysts to address three challenges:
How could payments data improve our understanding of regional economies?
Where could financial inclusion policies best be targeted?
How could we use payments data to create superfast economic indicators?
Over two days, the ONS and Barclaycard teams worked collaboratively – in some cases right through the night – to identify how the payments data could be used to improve our understanding of the economy. The traditional hackathon finish saw the teams 'pitching' their work to a panel of judges from across ONS and Barclaycard.
The winning team focused on building predictors and indicators that provide fine-detail information for trending economic changes. Even at this early stage of development, their work shows how bringing together card spending data and economic data held by ONS could improve the information available for policy & strategy decision makers to make timely economic decisions.
There is much work to be done to turn this demonstration into a working model. But one of the things that stood-out for the judges was the winning team's roadmap for how to get there, including the development and data architecture needed for a successful prototype.
"We're really excited to play a key role in helping to support a better understanding of UK economic trends and growth. The hackathon was a great event to harness the excitement and expertise created through our partnership with the ONS, and the winning teams have shown tangible evidence that payments data can indeed be used for public good." – Jon Hussey, MD Data & Strategic Analytics, Barclaycard International
For the Data Science Campus, collaborations are all about knowledge exchange. They are an opportunity for us to access expertise in tools, technologies and approaches to data science from outside government, evaluate them in a safe environment, and share our learning across ONS and wider government.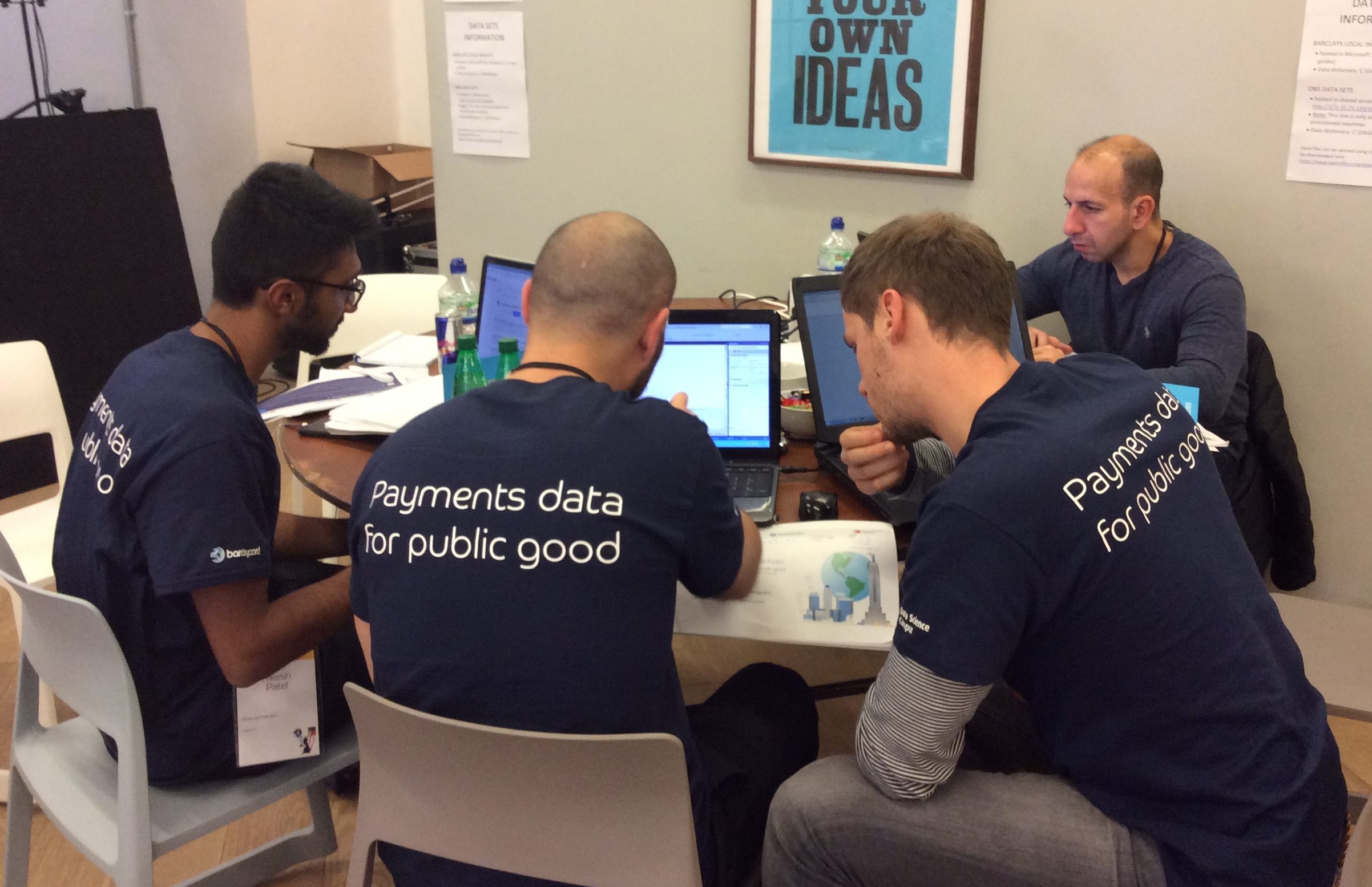 It was inspiring to see the level of energy, drive and collaboration, and to pool ONS and Barclaycard skills into understanding how payments data can be used for public good. (And it is worth pointing out that no money changed hands and no personal data were involved. ONS is only interested in producing aggregate statistics and analysis.)
Our work with Barclaycard illustrates perfectly how the rich data held by partners outside government can improve our understanding of the UK's economy. This is a key part of ONS' Better Statistics, Better Decisions strategy, enabling ONS to deliver high quality statistics, develop and implement innovative methods, and build data science capability by tapping in to best practices wherever they may be.
We actively welcome engagement from all sectors, to meet the demands and challenges posed by the evolving economy. If you are interested in finding out more, and/ or collaborating with us, please register your interest. "
Tom Smith is Managing Director of the ONS Data Science Campus, and @_datasmith on twitter