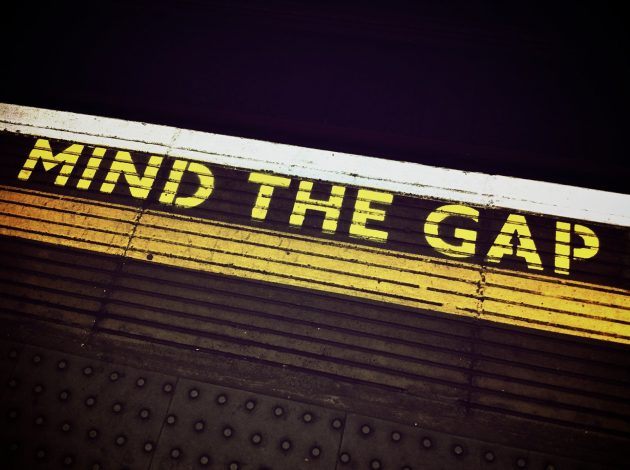 As we approach the centenary of women's suffrage, gender issues remain a topic of fierce interest and debate through issues such as the gender pay gap, sexual harassment and male suicide. Last week, Emma Rourke took part in an event which asked do we have the data we need to make informed decisions on how to tackle issues of gender equality? Here she explains the role data have to play. 
The debate on gender can be influenced by misinformation and assumption instead of a clear evidence base. ONS is increasing its focus on how we can be more helpful to the ongoing conversation about gender equality with relevant, accessible statistics and analysis.  Data is central to identifying the root causes of issues like the gender pay gap, informing and evaluating policies to tackle them.
Last week, I took part in an event which was co-hosted by the ONS and our colleagues at the Royal Statistical Society. Titled 'Gender Data Gap', we heard speeches from Maria Miller MP (Chair of the Women and Equalities Committee) and Wanda Wyporska from the Equality Trust.
In this blog I want to share some of the work I presented at the event on what we are doing here at ONS to improve the evidence base for inequalities issues generally, and the latest analysis we have published on the gender pay gap.
The gender data gap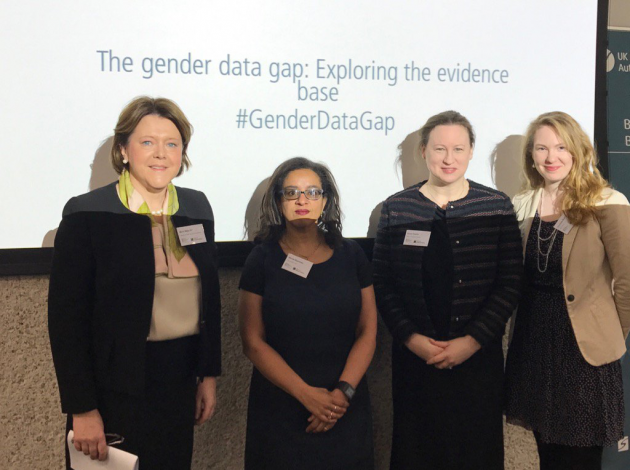 We already publish data on the gender pay gap, harassment, domestic violence and suicides, but how can we present a more coherent picture to be more helpful to policy makers and answer questions that matter most to the general public?
We need to ask ourselves, do we have the right data, from the right people, collected in the right ways? How inclusive are our current statistics? Who is left out and "invisible"? Can we use new sources of data and data science techniques to improve our understanding? These questions apply not only to gender inequality, but also to other inequalities, such as race, disability, age and sexual orientation.
To start answering these questions, we have launched a cross-government audit to understand the full spectrum of inequalities data that is available to us. The audit will focus on the nine protected characteristics under the Equality Act (2010): age, disability, gender reassignment, marriage and civil partnership, pregnancy and maternity, race, religion or belief, sex and sexual orientation. The audit will cover survey and administrative data produced or funded by government that has been produced in the last five years. The audit will help us identify gaps in our existing data, where the data are not available at smaller geographic areas, or where there is a need to produce data more frequently.
We have written to more than 400 colleagues across government as part of the audit, with a request for responses of the end of January. We expect to publish a report collating our findings by the end of March, after which we will develop an action plan to take forward the most urgent recommendations. The important link for us is that the questions we have to better understand our society drive the need for more data.
To this end, we heard feedback from a range of stakeholders from government, academia and civil society at last week's Gender Data Gap event. Attendees discussed the areas where the current data on gender and inequalities issues could be strengthened, and the importance of considering gender issues alongside other characteristics like age, race, ethnicity and working patterns to accurately identify the underlying causes of inequality. Questions included how we can further disaggregate data to understand the picture at local levels, what data we could collect for small and medium-sized businesses and what data we were collecting on issues that particularly affect men, like suicide and rough sleeping. We will take these questions away and see how the data sources we identify through the audit can be matched to these issues, or indeed identify areas where there are gaps in the data that need to be filled.
The gender pay gap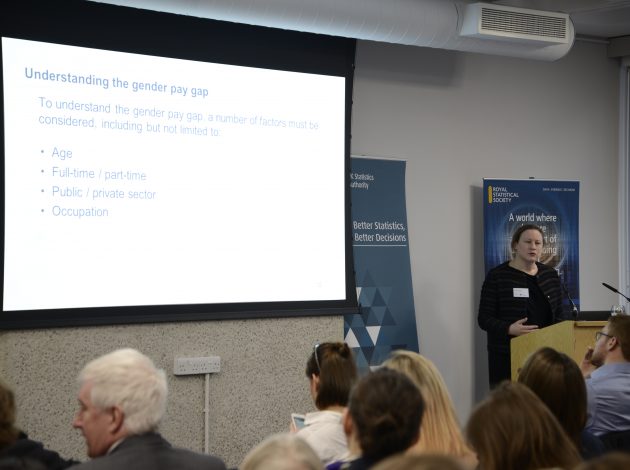 Last week we published new analysis which attempts to explain the different factors underpinning the gender pay gap. The gender pay gap has been decreasing steadily over the last 20 years, but there is still a 9.1% gap between the earnings of men and women in full-time employment. A number of factors have an impact on the pay gap, including your age, whether you work in full-time or part-time employment, in the private or public sector, and your occupation.
For instance, we know that men and women tend to work in different occupations, and have different working patterns. The occupations with the highest proportion of men in full-time employment are skilled trades, process, plant and machine operatives, and chief executives and senior officials. By contrast the occupations with the highest proportion of women working full-time are most caring, leisure or other service providers, administrative and secretarial roles, and sales and customer service roles.
On average there are more men in full-time work compared to women, with women tending to hold more part-time jobs.
Suffice it to say that to understand the gender pay gap, it is important to look beyond the headline figure and explore the different employment characteristics for men and women. From the factors that we explored, 36% of the pay gap is estimated to be driven by occupation group and working pattern. That does of course still leave 64% of the gender pay gap which is so far unexplained (including how much of that can be ascribed directly to gender discrimination) and our challenge going forward is to examine a wider range of factors from other data sources. We have suggested that we consider education, family structure, career breaks or number of children for example to improve our understanding of the different contributing factors to both the gender pay gap and other inequalities.
Looking forward
There is a lot going on in ONS and across government to address gender and other inequalities. We will continue to support the government in the development of the Race Disparity Audit, which was published last year. We are also working developing international measures of gender equality through our work on the Sustainable Development Goals. We look forward to sharing the outcome of our audit and continuing to work in collaboration with others to answer the outstanding questions about our society. Inequalities are a priority area for ONS and the country, and we will continue to publish updates and engage with government, academia and the third sector as this work progresses.
If you would like to hear more about our work on gender and inequalities, please do get in touch.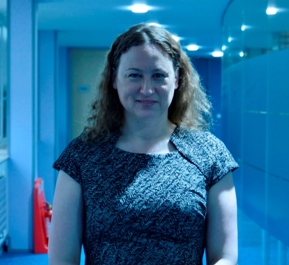 Emma Rourke is Director of Public Policy Analysis at ONS