Supporting global goals in Ghana
The UN's Sustainable Development Goals offer a blueprint to global prosperity. ONS is leading an effort to provide our international partner countries with an open-source reporting platform for them. Christopher Norris, who recently worked with the Ghana Statistical Service, reports on how the African nation is working to get this vital data online.
In September 2017, ONS was provided with a Department for International Development (DFID) grant, giving resource to support and share skills with developing countries. The aim, to improve the quality and availability of Sustainable Development Goal (SDG) data for overseas partners, and encourage all users to 'clone their own' version of the UK reporting platform using the replicable code. Ghana was one of the first African strategic partners alongside Rwanda to copy the UK site, and recently participated in an ONS-led overseas workshop to develop their data.
What did the workshop involve?
Members of the ONS led a series of training sessions in Accra City, Ghana in October. The Ghana Statistical Service provided a hardworking team of volunteers, who collaborated to source data and metadata from national ministries, districts and agencies, and quickly picked up the skills necessary to prepare and maintain their cloned platform. The work was fairly intensive, with many indicators requiring recalculation against their baseline report.
The week resulted in over 30 indicators being published across 11 multi-disciplinary Goals. Most are disaggregated by Geography, and some by Sex. Indicator 3.2.1 "Under-5 Mortality" includes an interactive map based on code from ONS Geography. The speed with which this was achieved demonstrates the commitment of the Ghana Statistical Service to measure their SDGs, and the importance of face-to-face interaction during statistical capacity building overseas.
How was the launch?
The event on African Statistics Day in November 2018 was attended by over 300 representatives from Ghanaian ministries, districts and agencies, and was covered by DFID and others on Twitter. The launch was a great success, with the Ghana Statistical Service praising the work of ONS and its volunteers, and reiterating the aspiration for 'all global, regional and national priorities' to be included on the site. The event raised awareness that the US/UK sites are open-source, and can be easily cloned and adapted by all.
What are the next steps?
Following the workshops, the Ghana Statistical Service expressed confidence that they can prepare and upload data, and train new staff to maintain the site. They suggested that future data development might include crowdsourcing solid waste data and using Sentinel (satellite) data to provide timely spatial coverage. Site development will include SDMX compatibility, a multilingual feature (specifically French and a selection of local dialects), and a wider range of charts.
During the workshop, we discussed with the Ghana Statistical Service Chief Statistician the potential for Ghana to also measure national development framework goals and Africa 2063 indicators on the site. This is a concrete possibility given the flexibility of the code, but would require a dedicated Ghanaian SDGs team. This multi-use dashboard could be co-opted by other African countries.
Ghana Statistical Service have made good progress. It was a pleasure working with our African partners, and I'm proud of what was achieved during the workshops. Increased transparency and data sharing between ministries is crucial to ensuring the SDGs remain a reliable and useful policy tool.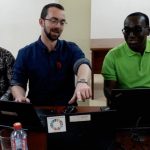 Christopher Norris works on the UK Sustainable Development Goals platform