Walking in Michael Faraday's footsteps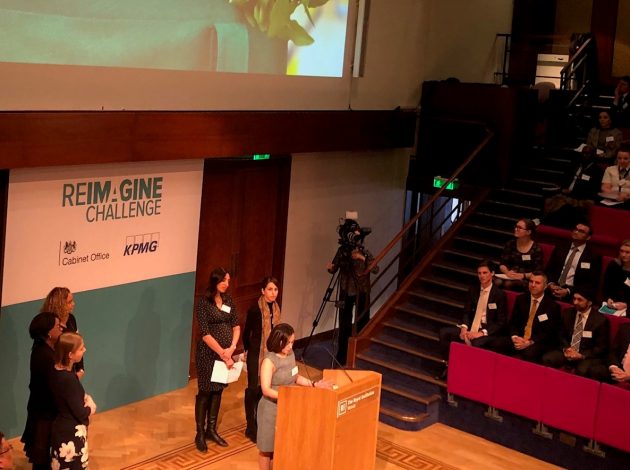 How do we reduce the millions of tonnes of food wasted every year? Can we better support development in African countries by investing in UK businesses? How do we tackle digital exclusion? What about increasing volunteering with the police? And what on earth does any of this have to do with Michael Faraday? Jonathan Athow explains.
Let's start with the last of my questions. One evening recently I found myself in the Faraday Theatre at the Royal Institution in London for the final of the Reimagine Challenge. This where the Royal Institution Christmas Lectures take place, so it was a dream come true for someone as geeky as me. The Reimagine Challenge is an annual exercise that brings together people from the Civil Service, the wider public sector and industry to come up with practical solutions to some very real-world problems.
I was there to support our ONS staff members taking part. It was fantastic to watch a series of people speaking passionately and eloquently, on the very spot where Michael Faraday once presented his theory of electromagnetism, about how we might go about answering the questions that started this article. The four teams presented ideas on how to tackle food waste, support investment for development, help the digitally excluded and increase volunteering.
The quality of ideas was outstanding. The proposals put forward were very close to delivery, and very practical: innovative policy, but also implementation. Sometimes this is the harder part, so it was exciting that these ideas were ready to become reality. In fact, all of the projects will be taking their ideas through to implementation, and the ONS is supporting that too. For example, we will be using our partnership with Cardiff University to help the development of websites, portals and apps.
I was very proud that each of the four teams included an ONS member of staff (in one case a former ONS fast-streamer), as this is exactly the kind of real-world problem-solving we want to support. Their teammates came from a wide range of experiences and backgrounds, and one of the partner organisations in the Reimagine Challenge is KPMG, so there was also a strong private sector influence. The panel of judges, chaired by the Civil Service's chief executive Sir John Manzoni, consisted of permanent secretaries and senior leaders from across the public and private sectors.
As with any competition, there had to be a winner – and the team working to tackle food waste took the prize. Their findings showed that at least 13 million tonnes of food is thrown away in the UK every year, costing the average family with children around £70 a month. Their approach was to propose the development of an app called 'WastePad' which enables users to track the food they throw away, act to reduce their food waste and share their stories with others. Thus, the app would help users understand the scale of their monthly food waste and encourage them to change their behaviour in a positive way. As users record each item of food they throw away, the app keeps a running tally of the wasted food to help them appreciate the financial and environmental impact of their actions. It would also encourage users to look up tips on food waste reduction including cooking with leftovers, understanding expiry dates and planning weekly grocery shops, leading to personalised suggestions in the future.
This winning team included Samar Kazranian from the ONS. Our other participants were Vinayak Anand-Kumar, Andrea Lacey, Rachel McSweeney and Rachel Prior. Congratulations especially to Samar, but also to the others, and thanks to them for being such fantastic representatives for the ONS. Our mission as an organisation is to mobilise the power of data to help Britain make better decisions and improve lives; what better example of this than developing the idea of an app that could help individuals to make better choices to cut down their own household's food waste?