New UK climate change portal to inform understanding and decision-making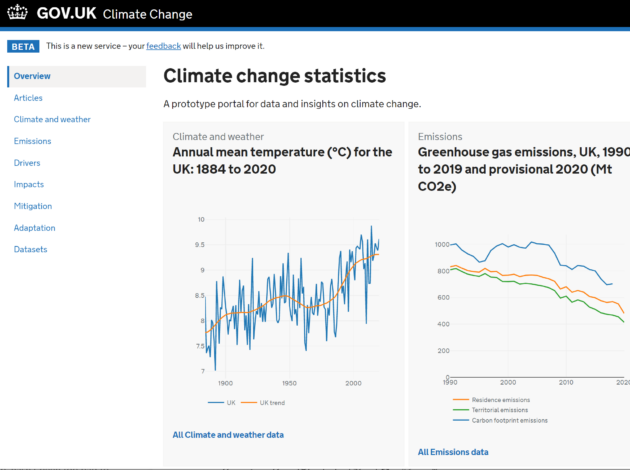 Ahead of the COP 26 summit, a new UK climate change statistics portal has been launched. It's an accessible one-stop shop for statistics on climate change and related topics, including drivers like energy use and emissions levels, giving clear, accessible and accurate information. As Ian Townsend explains, feedback on this prototype will drive its evolution.
Climate change is firmly on the agenda for policymakers and the public alike. This is especially so as we approach COP26, the major UN climate conference in Glasgow next month, and following the UK Government's Net Zero Strategy: Build Back Greener.
Behind the scenes, the ONS has been working closely with partners from across government for several months to bring UK climate change-related statistics together in one place for the very first time.
Our aim is to make the best possible information and insights on climate change available everyone to aid understanding, inform policy and support responses across public, private and third sectors and by citizens and communities across the UK.
The ONS record of environmental statistics and insights
The UK's independent national statistical institute, the ONS has a strong track record of providing the underpinning statistics and valuable analytical insights on environmental issues.
This includes the how environment links with the UK's economy through the environmental accounts, greenhouse gas emissions by sector, understanding the low carbon and renewable energy economy, defining a 'green job', and the economic value of nature to the UK and its people through natural capital accounts – look out for our latest statistics on these on 12 November.
Collaboration and the Climate Change Portal
Climate change is a systems issue which reaches across many different areas of work. Relevant statistics are produced by a range of government departments and bodies.
In recognition of this, analysts from across government have come together to bring these statistics into one place for the first time.
We are pleased to have enabled this collaborative effort and worked with them to develop the new UK climate change portal launched today.
The portal's home page provides a summary dashboard, visualising six climate change statistical indicators. You can click through these to discover more indicators in six areas: climate and weather; emissions of greenhouse gases; drivers, actions contributing to climate change; impacts on nature and society, mitigation, limiting the scale of climate change; and adaptation, to the consequences of existing and anticipated climate change.
There are also three explainer articles to support understanding, drawing on indicators across these areas. These look at the UK's changing climate, drivers and responses; measuring UK greenhouse gas emissions; and emissions and international trade.
The data explorer also allows you to search and filter the datasets behind the indicators and explainers on the portal and download them for deeper analysis in a structured open format with consistent formatting.
Next stages depend on feedback
The portal demonstrates the power of bringing high-quality data, statistics and analysis together, making them easier to access and more useable by policymakers and the public.
It is currently a prototype – a major step in a wider project, with just a fraction of the range of existing and potential resources that could be brought together.
Our ambition is for the portal is to evolve to better address the needs of a range of users to inform policymakers and the public even better. This might involve broadening the indicators included, providing a more comprehensive picture of climate change, or mini-dashboards and narratives focusing on particular issues. Or maybe aspects of both.
We are keen to gather feedback on the portal and the statistics it presents, how they are presented, and the future developments that might make the portal even more useful. This includes our partners on this prototype, but also across a wider range of users. So do share feedback with us at climate.change@ons.gov.uk.
We will be gathering feedback over the next few months, which will be vital to informing the evolution of the portal. During this time we will continue to update statistics already on the portal. Throughout, we will be working closely with the Integrated Data Service – which powers the portal.
Showcasing the portal at COP26
We are pleased to be co-hosting an event in the Science Pavilion at COP26 with the Met Office: The power of data in decision-making and for public understanding of climate change.
The National Statistician, Professor Sir Ian Diamond, will give a keynote speech. Nick Rayner will present on the Met Office's global climate dashboard followed by the ONS's Helen Fox on the UK climate change statistics portal. Following this, Sir Ian will be joined by experts for a panel discussion on the importance of science and statistics for evidence-based decision making.
The event will be available online via the Met Office's YouTube channel.
Ian Townsend is Deputy Director for Environment, Net Zero and Natural Capital including leading on climate change statistics and analysis at the Office for National Statistics.