Improving data collection for knife enabled crime in England and Wales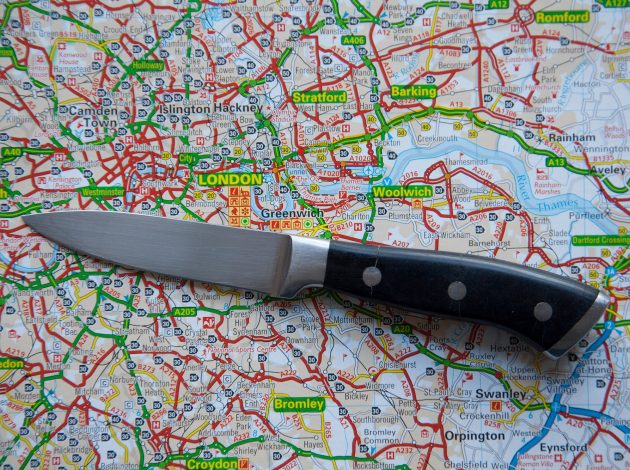 Knife enabled crime is a serious social issue which has devastating consequences for families and communities. Over recent years, the number of reported offences involving a knife or sharp instrument has been increasing. In this post Sophie Sanders explains the latest improvements in measuring knife enabled crime and what you need to be aware of in interpreting the next set of crime statistics.
To improve data quality the Home Office and police forces have been developing a new method for counting crimes involving knives or sharp instruments, also known as knife enabled crime.
Previously, when a crime such as an assault or robbery was recorded by the police, a flag also had to be manually applied to that crime record if a knife or sharp instrument was involved. Because of this additional step, while the number of crimes recorded was correct, whether it was knife enabled or not may have been less accurately captured. Concerns were raised over the consistency of this approach, both over time and between police forces. There were also concerns over the consistency of the interpretation of the guidance by those responsible for flagging these offences.
New system
Because of these concerns, the Home Office with police forces have been developing the National Data Quality Improvement Service (NDQIS), a computer-assisted classification tool based on a common set of criteria. Changes were also made to the coverage of offences including broken bottles and glass removed and sharp tools, such as chisels and screwdrivers, added. The guidance on when the use of a knife or sharp instrument as a threat should be recorded was also made clearer.
Through a pilot with a number of police forces the new process has shown to improve data quality and comparability. Figures covering the initial 12 police forces under the new method will be published in tomorrow's release 'Crime in England and Wales: year ending December 2020', including an adjusted time series. These forces are Derbyshire, Dyfed-Powys, Greater Manchester Police, Leicestershire, Lincolnshire, Merseyside, Metropolitan, Northamptonshire, South Wales, South Yorkshire, West Midlands and West Yorkshire. They account for around 60% of knife enabled offences recorded by the police across England and Wales.
The combination of changes to the data collection method and coverage has had differing effects on the estimates of knife enabled crime for police forces, which we report on in tomorrow's release.
Improvements
Over the past six years, changes in practices and process by the police have meant there have been improvements in the coverage and recording of crimes reported. This has, in turn, contributed to the rises we have seen in police recorded crime, including knife enabled crime. Therefore, whilst we have been able to adjust the time series to take into account the new methodology and the change in coverage for the collection, data over the longer-term should still be treated with caution. Increases in the time series will be partly due to a genuine increase in these offences and partly due to improvements in recording across most forces.
Currently data for the remaining 32 forces are still collected via the original method. This means estimates for offences involving knives or sharp instruments are only comparable between the 12 forces who have switched to the NDQIS methodology. Over the next year the Home Office and police forces will continue to work together to roll out the methodology to all forces in England and Wales.