How world events have led to rising immigration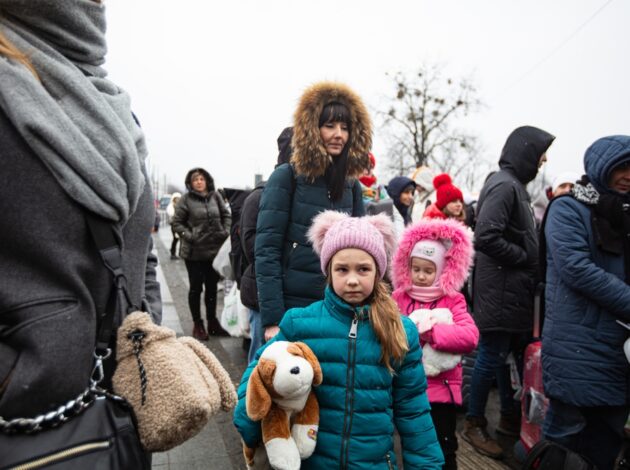 The 12 months to June 2022 were unique for many reasons. The end of lockdown restrictions in the UK, the first full period following transition from the EU, and world events including the war in Ukraine, the new visa route for Hong Kong British Nationals (Overseas) and resettlement of Afghans have all contributed to record levels of immigration. Here Jay Lindop examines the impact of these events and looks ahead to what the future holds for international migration estimates.
Measuring migration has always been complex, but the unique circumstances of recent times have made it even more challenging.  Today we've published record levels of international immigration in the year to June 2022.
The many factors independent of each other contributing to migration at this time mean it is too early to say whether this picture will be sustained.
While we are confident our estimates are based on the best methods and data available, our new experimental migration statistics are still being refined. There is some degree of uncertainty, but they compare very well with implied Census 2021 immigration figures.
Caution should, however, be also taken when comparing these figures with historic trends, not only due to the world events leading up to them, but also due to the new methods used.
What do we know?
Our figures tell us 1.1million people have immigrated in the year up to June 2022. This includes the first period where all COVID-19 international travel restrictions into the UK were lifted. It was also 18 months after the new immigration system was introduced following transition from the EU.
In this period, the Home Office has also opened a number of new special visa programmes, including for Hong Kong British Nationals (Overseas) and Ukraine family and sponsorship schemes. For example, Home Office estimates suggest that around 89,000 Ukraine Scheme visa-holders arrived in the UK up to June 2022. Many of those coming on special visa programmes will stay long term, but this is a complex picture and therefore only some are counted in our estimates as explained in today's statistical bulletin.
Another driver may be built-up demand from international students wanting to travel here again after studying remotely during the pandemic.
We also see a continued rise in non-EU workers. Previous research by the ONS suggested non-EU employment was more than offset by falls in EU employment. Our statistics published today show these continuing trends in new migrants coming to work.
To give a more complete picture we have provided additional breakdowns our previous bulletin in May did not include. We can say 39% of those immigrating from non-EU countries came to study, while 39% came for other reasons, which includes family, protection and settlement, and 21% came to work. The increase in people arriving for other reasons, especially those from Ukraine, is a notable shift from traditional 'reasons for migration'.
Completing the picture
These estimates of long-term international migration do not include recent irregular migration, including the estimated 35,000 people arriving by small boats in year ending June 2022, the majority of whom apply for asylum. In order to include these within our official measures of migration we need to be sufficiently confident in the methods to do so without compromising the overall quality of our long-term migration estimates. We are working with the Home Office to better understand how this group appears in Home Office data and can be included within ONS measures of migration in the future. 
Other developments relating to migration 
Alongside our release, the Home Office has published immigration statistics predominately on visas issued. A dashboard has been created to help users navigate various migration statistics across government. We will continue to update this with new releases and the latest information. Please let us have your feedback on the utility of this dashboard.
Our best estimates for long-term migration from June 2020 onwards are based on administrative data sources. We are currently reconciling differences in the intercensal period 2011-2021 and will publish rebased population and migration statistics in 2023. We will show how our estimates compare with a number of migrant indicators to give users more confidence in the quality of our current estimates.
In line with our revisions policy we have revised our year to June 2020 and 2021 migration estimates as more data are available and our methods have improved. Our next mid-year population estimates due out in December will use these revised estimates.
Earlier this month we published results from Census 2021 on the size of the non-UK born population. We will provide even more insight on this population in early 2023. Using today's migrations statistics and the Census we have also shown the size of the non-UK born population in England and Wales may now be 10.4 million. We need to develop the method following our announcement of moving away from our historic measure of non-UK born population from the Annual Population Survey due to issues with the underlying data used to weight the survey.
Yesterday we published estimates of the population for 14 local authorities (LAs) using a new Dynamic Population Model (DPM). This is our future proposal for population estimates. Our latest migration statistics are not used in this release but you can expect them in the next DPM publication early next year which will look at all LAs in England and Wales.
Future plans
Our research paper, published today, shows progress we are making on a number of fronts. We continue to consider alternative – shorter or longer – periods of time before which people arriving here might be defined as migrants. Our estimates now also include an adjustment to include under 16s for EU citizens (historically a coverage gap in our data). We demonstrate how we have applied that adjustment as well as further improvements to our methods.
There is more work to do. Our next long-term international migration estimates will be published in May 2023. You can expect more clarity in describing uncertainty in our numbers. We will aim to better integrate asylum seekers into our migration estimates and further breakdowns to understand more about those immigrating and emigrating to and from the UK.
As we continue to improve our estimates your advice and feedback is encouraged, particularly if we haven't heard from you. Drop us an email at pop.info@ons.gov.uk and we will get in touch.